This post was doing the rounds (as a tag) in 2011 and I really liked reading it, so I thought I'd start it again this year.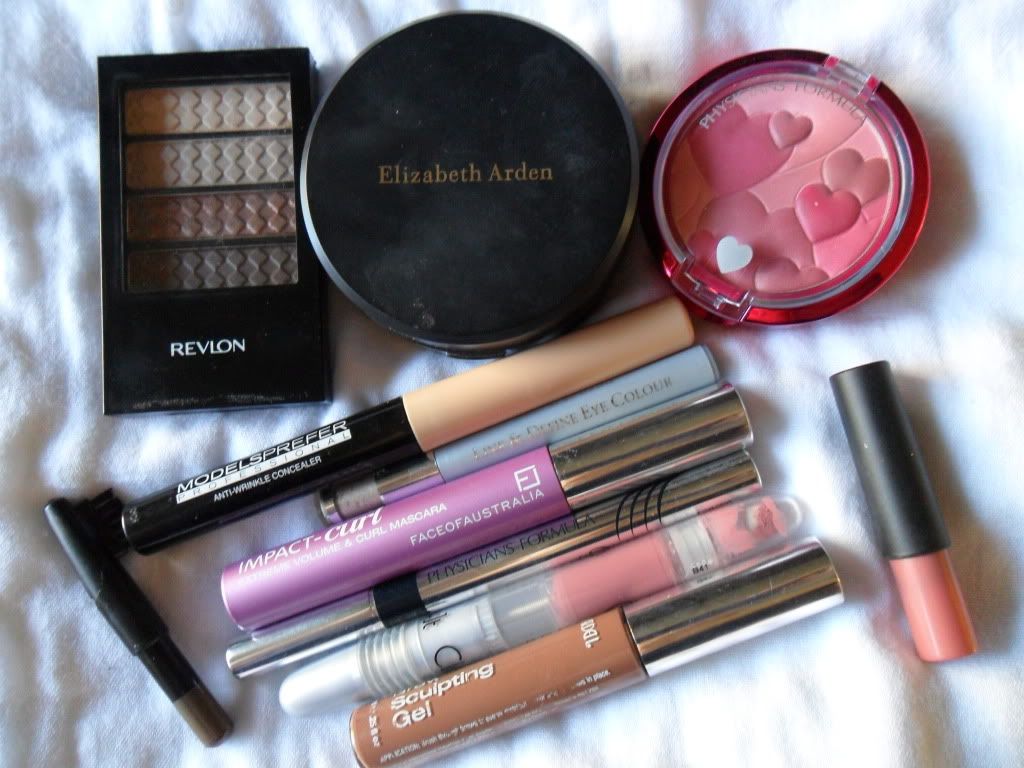 Ardell brow gel - I've been using the clear brow gel for years, however it was out of stock so I picked up the tinted version and I love it. Read my full review (of the clear version) here.
Ardell brow pencil - I ran out of my favourite MAC brow pencil and couldn't get into the city to get another one so I bought this. It was super cheap and I'm really happy with it.
Physicians Formula Happy Booster Blush in Rose - I've been waiting for this range to arrive in Australia for ages and I'm so happy it has. Being a sucker for anything with love hearts on it I had to try this. It smells amazing and is so pretty, I love it! (review coming soon).
Elizabeth Arden Pure Finish Foundation - Love this. I've been using it for ages now and it's still going strong, I think the make-up fairies replenish it every night when I'm sleeping. Read my full review here.
Revlon Color Stay Quad in Coffee Bean - This is a new addition to my collection and one I'm really glad that I got. I bought it just before I started my no buy, after seeing someone raving about it on a blog. The colours are all beautiful and it's become my go to eye palette.
Nars Velvet Matte Lip Pencil in Sex Machine - I wore this on my wedding day, it's a beautiful mlbb shade.
Bonne Bell Click -It Lip Gloss - This isn't really a favourite but I'm trying to use it up for P50P. It tastes great and is a pretty, natural colour on me.
Face of Australia Impact-Curl Mascara - Another great product from Face of Australia, they can't do any wrong. This curls my lashes and holds the curl all day. Amazing. Read my full review here.
Models Prefer Professional Anti-Wrinkle Concealer in Light - Love, love, love. What more can I say. Read my full review here.
Innoxa Line and Define Eye Colour in Taupe - I'm trying to use this one up for P50P too. It's a gorgeous colour and super easy to use, however I find that by lunch time it's creased, even when I use a primer.
Physicians Formula Eye Booster in Ultra Black - I've never been a fan of black eyeliner, I find it too harsh on my pale skin, but after using this I'm a convert. I draw a really thin line on my lash line so that it's not visible, but it makes my lashes look thicker. I've only been using this for a week so will be interested to see if it makes my lashes any longer.